Abbey of St Bertin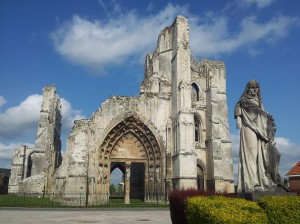 Situated on the banks of the Aa River, the Abbey of St Bertin, located in St Omer, France, was one of the most important monasteries in Europe.
During the summer of 1475, Edward IV landed in Calais with an army that Commines called the 'most numerous, the best disciplined, the best mounted … that ever any king of England invaded France withal'. His brothers, Richard, Duke of Gloucester, and George, Duke of Clarence, came with Edward to France. In Calais, the three brothers reunited with their sister, Margaret, Duchess of Burgundy. While preparations were being finished in Calais, Richard and George are thought to have gone with Margaret for a short time to St. Omer.
With the wonderful assistance of the History and Heritage Department in St Omer, I was able to determine that Richard would likely have stayed in the Princess apartments of the abbey. These quarters, which abutted the abbey's church, were built by Abbot Guillaume Fillastre. Fillastre is best known for commissioning the exquisite altarpiece of St Bertin, which was ornately painted, gilded and covered with precious gems. Fragments of its shutters can be viewed at the National Gallery in London.
As Richard and his siblings arrived in St Omer and made their way to the abbey, they would have passed through the gardens which surrounded it. The grand church, with its two courtyards, was more than 360 feet in length.
All that is left today of the magnificent abbey is its picturesque ruins. Both the picture and lithography of the ruins are from Wikimedia Commons.
A print of the abbey, which is one of the ninety-eight images and layouts located within the The World of Richard III, was provided by the Hotel Sandelin Museum. While some of my pictures are included in the book, I am indebted to the many sites who allowed me to use their images and layouts within its pages.
St Omer is only a short drive from Calais, making it ideal for a day trip from the UK. I highly recommend a visit.
Wikimedia picture of the ruins today by Saber68; other pictures by Kristie Dean