Today marks the anniversary of the wedding of Henry VII and Elizabeth of York in 1486. While this marriage was made mainly to unite the country and help secure Henry's throne, there is some indication that affection had grown between the couple prior to the ceremony. The Earl of Nottingham bore witness that Henry wanted to marry Elizabeth 'both on account of the singular love which he bears to her, and also on account of the special prayers and entreaties of the lords and nobles, both spiritual and temporal, and of the whole commonalty of his said realm of England'.
The wedding ceremonies likely took place in the Chapel of St Stephen's in the Palace of Westminster. Although today nothing remains but the crypt, the chapel was ornate. Painting of angels and motifs of lions, fleurs de lis, and other gilded ornaments adorned the walls. Light blue mouldings were set off by gilded bases, caps, canopies and bosses. The Ascension of Christ and stories of other Biblical figures filled the chapel.
Large piers, surrounded by a cluster of columns, divided the chapel into five bays, with each wall of each bay lavishly arcaded with columns of bright Purbeck marble, supporting ogees. Heraldic shields decorated each of the mouldings, with grotesques in between, and the spandrels of the arches were painted with stars of gold on a blue background.
Above the altar, at the east end of the chapel, was a painting of Edward III being presented to the court of Heaven by St George. Behind the bowing king were his kneeling sons, then his queen and daughters.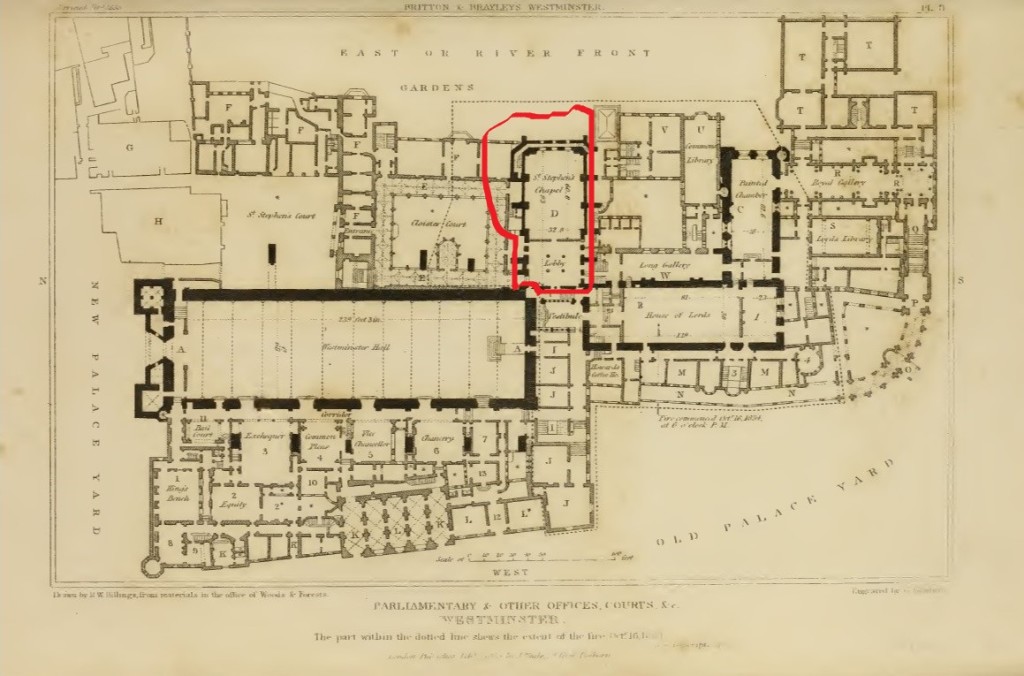 Note: The image was taken from The History of the Ancient Palace and Late Houses of Parliament at Westminster: Embracing Accounts and Illustrations of St. Stephens Chapel, and Its Cloisters, – Westminster Hall, – The Court of Requests, – The Painted Chamber, &c by Edward Brayley (Wikimedia Commons). I've added a red outline to make the site of the chapel stand out.