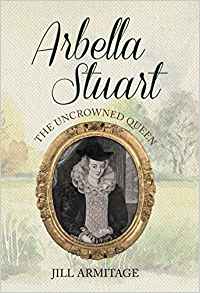 When I was given the opportunity to read Arbella Stuart: The Uncrowned Queen by Jill Armitage, I jumped at the chance. I was not disappointed. Armitage offers the reader fast-paced, enthralling writing which offers vivid details and brings history to life.
Born to parents of a non-sanctioned marriage, Arbella Stuart had royal blood flowing through her veins. As a great-granddaughter of Henry VII, she was a possible successor to Elizabeth I.  Despite this fact, her early years were filled with relative poverty prior to her being allowed to move to the home of her grandmother, Bess of Hardwick. By weaving together details of the history of women pivotal to Arbella's life, Armitage provides readers with the historic context essential to understanding Arbella's background. She does this within a narrative framework, making the necessary background a compelling read.
Armitage paints a vivid picture of Arbella's early years – her time spent with both Mary, Queen of Scots, and the formidable Bess of Hardwick. While some of this is simply conjecture, it allows the reader to be drawn into the story. Reading the riveting narrative, one begins to feel sympathy for the young Arbella, orphaned at an early age – her family life in disarray with her grandmother at odds with Shrewsbury. Armitage does an excellent job in providing the reader with background for any event that impacted the young Arbella.
Armitage supplements the book with several appendices to further allow readers to explore topics such as what happened after Arbella's death and regarding the line of succession.
Arbella Stuart: The Uncrowned Queen is an excellent introduction to the world that Arbella occupied and it provides insight into the events and people who shaped her character. I recommend that any lover of British history read the book.