Heroines of the Medieval World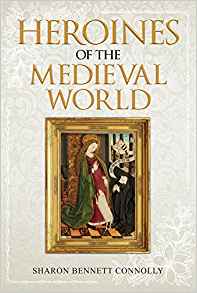 It has been a long time since I have been this excited about a book. I kept pestering Sharon with questions about when it would be released. I knew I would enjoy the book, as I have loved reading her blog posts at History, the Interesting Bits. I also love reading (and writing) about the women of this time period, so this book was quickly on my to-buy list.
Heroines of the Medieval World is a book that needed to be written, and now, thankfully, it has. With this work, Sharon Bennett Connolly gives readers a glimpse into the lives of both women whose stories often went unnoticed as well as those more known like Eleanor of Aquitaine.
The book is well-written, with the facts woven into a rich narrative that made me feel like I was hearing these women's stories during a conversation with a friend. I quickly became engrossed in the lives of these fascinating women.
One of the women Sharon writes about is Nest, a woman whose story I knew well. Excited to learn more about her, I settled in to read the following:
One of the most fascinating and colourful of medieval mistresses has to be Princess Nest of Wales…Nest was born sometime before 1092, probably around 1085; she was the daughter of Rhys ap Tewdr, king of the Welsh land of Dehuebarth…
As Nest's story continued, I was intrigued at how well Sharon brought this complex woman to life. One thing that she does well is to present the story with just the known facts. When facts are unknown, she is quick to tell you rather than simply making assumptions.
Divided into 12 thematic chapters, the book contains headings from the pious "Heroines in Religion" to the juicy "Scandalous Heroines." Each chapter contains the stories of several medieval women who fall under that heading. My favorite chapter was "Captive Heroines." I've done a post on Isabel MacDuff, Countess of Buchan for this blog, and I'm always happy to read about her. However, the story of Ingeborg of Denmark ended up being my favorite story in the chapter.
This book is helpful for the both novice historian as well as someone who has studied history extensively because so many women are included in its scope. Around 50 women are given a voice by Sharon throughout this well-written work. Her research is obvious; she makes good use of footnotes and also includes an extensive bibliography.
I'm already looking forward to her next book, Silk and the Sword: the Women of the Norman Conquest, although this time I promise not to bug her so often as to its publication date. Well, I will try not to, anyway…since it is due out late 2018.
I also enjoyed the story of Anne of Kiev in the "Women who Ruled" chapter. Read below for an excerpt from this wonderful book.
Excerpt
Very few women in the medieval era were able to take the reins of government. Their role was primarily confined to the domestic sphere, with men taking on the job of governance – whether of lands, as a count or duke, or of a country, as king – because that was seen as their domain. Some women, however, did manage to rule, and to rule efficiently, although not without opposition. Most examples of women who took the reins of power follow the early deaths of their husbands, when they were called upon to rule as regents until their sons were old enough to rule alone.
One such woman was Anne of Kiev, sometimes called Agnes. Born sometime between 1024 and 1036, Anne was the daughter of Yaroslav the Wise, Grand-Duke of Kiev, and Ingegerd of Sweden. Yaroslav and Ingegerd had nine children, several of whom had made royal marriages. Of their daughters, Anastasia had married Andrew I of Hungary, and Elizabeth was the wife of Harold of Norway. One son, Isiaslav, was married to the sister of the king of Poland, while another son, Vsevolod, married a daughter of the Byzantine emperor.
In 1051, Anne was to make the most prestigious marriage of all, when she became the second wife of Henry I, King of France. Following the death of his first wife, Matilda of Frisia, during childbirth, and in an attempt to find a wife who was not related to him within the Church's prohibited degrees of kinship, Henry had sent an ambassador to Kiev, laden with gifts, in search of a bride. Anne is said to have been renowned throughout Europe for her 'exquisite beauty, literacy and wisdom'. Anne and Henry were married at the Cathedral of Reims on 19 May 1051; Anne was probably around twenty years old, while Henry was around forty-three. As a demonstration of her superior level of education, Anne signed the marriage contract in her own hand, using her full name, whereas Henry could only manage a cross. At her coronation at Reims, Anne used a Slavic gospel to say her vows, which she had brought with her from Kiev, rather than the traditional Latin Bible. Anne brought no land with her marriage dowry, but she did bring connections and wealth. The jewels she brought with her probably included a jacinth, which Abbot Suger later mounted in a reliquary of St Denis. Although it lasted only nine years, Anne and Henry's marriage appears to have been a great success. The couple had three sons, of whom the oldest, Philip, born in 1052, succeeded his father as Philip I. He was known as Philip 'the Amorous' and reigned for forty-eight years, marrying twice; firstly to Bertha of Holland and secondly to Bertrade de Montfort, having three children – two sons and a daughter – with each wife. Anne and Henry's second son, Robert, born in 1054/5, died young and the youngest, Hugh, born in 1057, became Count of Vermandois on his marriage to Adelaide, Countess of Vermandois. Hugh was vilified for failing to fulfil his Crusader vows by returning home early from the First Crusade, he died, in 1101, of wounds received in battle with the Turks after returning to the Holy Land.
Anne appears to have thought of France as provincial compared to her homeland of Kiev; she wrote to her father in 1050 saying, 'What a barbarous country you sent me to – the dwellings are sombre, the churches horrendous and the morals – terrible'. Anne, however, appears to have made an effort to settle into her adopted country, she learned the language and participated, to some extent, in government; she and Henry worked in partnership as king and queen. Several decrees include the phrase 'With the consent of my wife Anna' or 'In the presence of Queen Anna'. Towards the end of Henry's reign, Anne was counter-signatory to at least four charters, including a 1058 charter of concession to the monastery of St Maur-les-Fosses, signed 'including my wife Anna and sons Philip, Robert and Hugh' and a donation to the monastery at Hasnon, which was signed by King Henry, Prince Philip and Queen Anne.
About the Author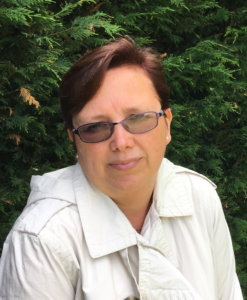 Heroines of the Medieval World is Sharon's first book, but she is no stranger to medieval history. An avid blogger of all things medieval, Sharon runs the blog, History, the Interesting Bits.
She is often found at various historic sites, whether doing research or passing on her love of history to her son.
Her book, Heroines of the Medieval World, is published by Amberley Publishing. Her second book, due out in late 2018, is also published by Amberley. You can follow Sharon on Twitter @thehistorybits.
Visit earlier sites on this blog tour:
  Day 1: http://anniewhitehead2.blogspot.co.uk/2017/10/heroines-of-medieval-age-review.html/
Day 2:  https://sarah-bryson.com/2017/10/31/sharon-bennett-connolly-book-tour-day-2/
Day 3: http://www.susanhigginbotham.com/blog/posts/guest-post-by-sharon-bennett-connolly-joan-lady-of-wales/
Day 4: https://henrytudorsociety.com/2017/11/02/all-for-love-katherine-swnyford-and-joan-beaufort/
Day 5: https://tonyriches.blogspot.co.uk/2017/11/book-launch-blog-tour-heroines-of.html
Day 6:  http://www.medievalarchives.com/MedievalHeroines 
Day 7: This blog
Day 8:  http://wp.me/p7hrUg-b6  (Stephanie Churchill)
Day 9:   http://bit.ly/2mqBQC7  (Lil's Vintage World)
Day 10: http://thereview2014.blogspot.co.uk/2017/11/heroines-of-medieval-world-blog-tour.html
Day 11:   https://www.facebook.com/TheGorgeousHistoryGeeks/
Day 12: http://authorherstorianparent.blogspot.co.uk/
Extra link a book review posted before the blog tour by Tony
http://tonyriches.blogspot.co.uk/2017/10/book-review-heroines-of-medieval-world.html